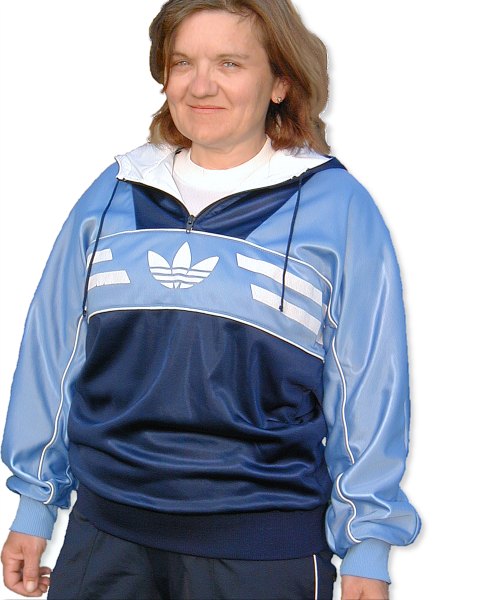 Adidas "Longbeach" hooded top
60% Polyester 40% Triacetate

History:-
Very popular in the early 80's. Sold in many Sports shops throughout the UK Price back then was £39.99 (Not including trackie trousers)

Description:-
Half Zip shiny hooded top in Sky blue, Navy and White Piping detail on sleeves, front & back. Lined hood and yoke. Hood drawcord with tied ends. Cold Printed flock Trefoil and trim. 2 types of template were in use for the trefoil. Colour matched Ziplon YKK 5C Zipper.
Made in The Philippines

When buying 2nd hand look for:-
Peeling/missing trefoil and trim *
Drawcord mangled (if not totally missing)
Zip paint chipped. *
Snags and pulls.
* = repairable Trackies has sourced original 80's white trim as used with this hoodie. Peeling trim can be replaced. Contact me for details.

Acquisition List
1
18 Sept 1986
Ripon market
39.99
34/36
2
tba
tba
tba
tba
3
tba
tba
tba
tba
4
tba
tba
tba
tba
5
tba
tba
tba
tba
6
tba
tba
tba
tba
7
tba
tba
tba
tba
8
tba
tba
tba
tba
9
tba
tba
tba
tba

Most horrific sight yet! Discarded by Local Charity shop.
Hood with big melt hole and sleeve torn to shreds. Looked like motorbike accident victim judging by the road rash.